Taynton Metal Detecting Club
The Gannets
Handley Page Hampden Crash, Highnam 1940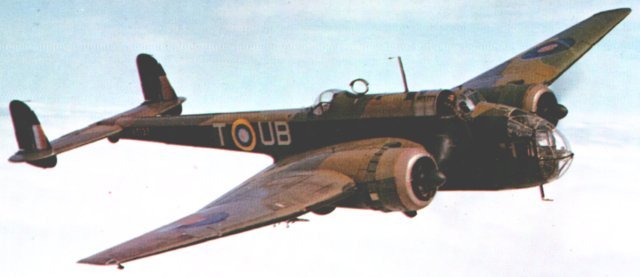 A Handley Page Hampden bomber.
Crash
On 8th October 1940 Hampden Mark I serial number P1271 of 16 Operational Training Unit, based at RAF Upper Heyford, crashed at Highnam with the loss of the entire crew. The aircraft was taking part in an instrument flying exercise when it appeared out of cloud in a dive and broke up, crashing at 1230hrs. The details of the crew are as follows:
| | | |
| --- | --- | --- |
| Pilot | Officer A F Jeffreys | Age 28 109 Solo Hours |
| 2nd Pilot | Sergeant J D Shiels | Age 27 |
| Gunner | Sergeant R T Bowtell | Age 22 |
| Gunner | Sergeant R A W Keeling | Age 22 |
Discovery
In July 2005, club members Don Sherratt and Dave Hutton, found a few very small pieces of wreckage and a few bullets scattered about a field at Highnam. They contacted two members of the North Gwent Aviation Society who brought in deep seeking equipment. The Aviation Society did not find any large parts, but they did locate a small pit where some parts had been deliberately buried, probably when the site was cleared in 1940.
| | |
| --- | --- |
| Bullets. | Small pieces of wreckage. |
School Children
The plane passed low over Highnam school before it crashed and the teacher let the children go to the crash site. Extract from Highnam School records:
Having first refused, Miss Jones (the head teacher) relented and granted permission for the children to go and see the wreckage. Although Miss Jones had told the children to keep with her, the older and bolder ones ran on so the party stretched out between the school and their destination. When the first children arrived at the scene it seems, bullets were exploding, and the remains of the four airmen who were killed were scattered about the burning wreckage.
Some of the children suffered fear and distress. Miss Jones was called to account and the school managers informed her of their 'very strong disapproval'.