Taynton Metal Detecting Club
The Gannets
Hawker Typhoon Crash, Taynton 1944
On August 1st 1944 Sgt Norman Joseph Brightwell of Shepreth, Cambridgeshire was posted to RAF Tactical Exercise Unit, 9 Group ADGB, Aston Down, Gloucestershire. Pilots were sent there for specialist training in ground attack techniques.
On August 5th 1944 he was detailed to do height climbing exercises to 20,000 ft in Hawker Typhoon JR516. This was only his third flight in a Typhoon. The weather was fair and visibility good. While in the air the engine caught fire and eye-witnesses heard a loud whining noise and saw smoke and flames billowing from the plane. It soon lost speed and then it went into a steep dive into a field at Taynton. Tragically Norman could not bale out and was killed.
The plane buried itself deeply in the ground and the engine and Norman's body had to be dug out. The engine was very badly damaged but the RAF accident report concluded that the fire had started in the carburettor area of the engine.
At the time of his death in 1944 the battle for Europe was at its height and no doubt Norman would soon have been sent out there to join the fight, but it was not to be. He was only 21 years of age when he was killed and is buried at Shepreth Church (All Saints); his next of kin were his parents Walter Augustus and Frances Annie Brightwell. His sacrifice has not been not forgotten for on Remembrance Sunday each year his name is read out during the service at Taynton Church together with those of the men of the village who died in the two world wars.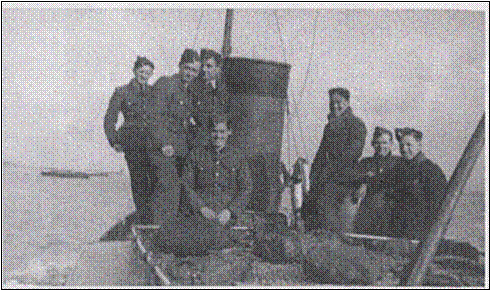 Norman Brightwell, far left at back.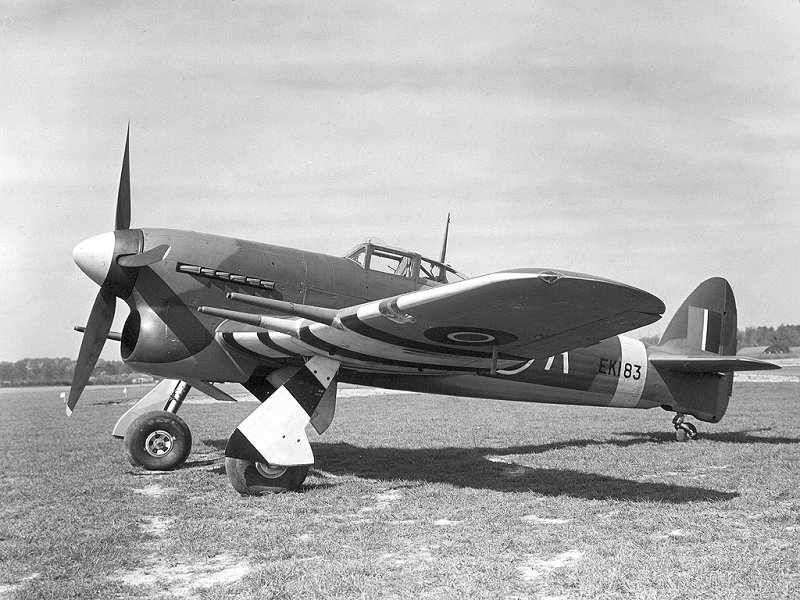 Hawker Typhoon. (Crown Copyright, reproduced with permission from www.raf.mod.uk )
Hawker Typhoons were built by the Gloucester Aircraft Company at Brockworth. This aeroplane, JR 516 was built in the latter part of a 1943 and enjoyed a brief sojourn at No. 51 Maintenance Unit, Lichfield , before joining 137 Squadron for active service on 1st January 1944. The aircraft suffered damage in March of that year when its pilot over-shot the runway and crash-landed at Lympne, Kent. After repairs, JR 516 was sent to No. 13 Maintenance Unit for modifications before being allocated to No. 3 Tactical Exercise Unit at Aston Down, Glos, where it received the squadron letters FA - E.
The Hawker Typhoon Fighter was not at first a popular aeroplane with pilots especially those coming from flying Hurricanes and Spitfires. It was a 'seven ton brute' and they found it clumsy and unreliable, also vision was poor, especially when flying into the sun and it was said to be 'like going to war in blinkers'. Even so it was a powerful aeroplane with a 2200 hp engine and could take on the role as a high altitude air superiority fighter against the threat of newly emerging German fighters. It was 100 mph faster than the Hurricane and was also used as a ground attack aeroplane and was highly successful against German tanks. It played a very important and decisive role in the final phase of World War II.
Most of the wreckage of the aircraft including the engine were removed soon after the crash in 1944 and after years of agricultural operations the exact crash site location became lost. In 2004 club members Don Sherratt and Dave Hutton found small fragments of scattered wreckage that indicated the area of the crash site. In May 2004 the precise impact site was located by The North Gwent Aviation Society using deep penetrating equipment and they concluded that the four wing-mounted guns (cannons) were still buried under the ground. The necessary permissions for an excavation were obtained and on August 20th 2005 the work was carried out. Amongst the parts recovered were the four cannons (almost intact), the starter motor, a brake drum, cockpit instruments etc. At a depth of about fourteen feet the propeller bearing housing and the engine's nameplate were found.
On June 2nd 2006, sixty two years after the accident, two members of Norman's family, June Brightwell and her daughter Sheila, paid homage at the crash site.
| | |
| --- | --- |
| June Brightwell, the closest living relative of Norman, visiting the crash site in 2006. | One of the four cannons being lifted. |
| Propeller bearing housing. | Engine's nameplate. |